Mummies Alive!

Behind the Scenes
The People Who Made the Show Happen
Mummies Alive was produced and directed by Seth Kearsley. We (Brenna and Brittany) were granted an interview with Seth Kearsley. See our Interview with Seth Kearsley Web Page.
Mummies Alive was a Production of DIC Entertainment. Robby London was one of the six Executive Producers of Mummies Alive, and he has done several interviews about the show, including our own Interview with Robby London.
Special Report - Mummies Alive! Campaign Unwrapped - This article, written in June 1997 by Virginia Robertson, goes right to the details about the licencing of a show, using Mummies Alive as its example. A real eye-opener!
DIC Entertainment was taken over by Cookie Jar in July 2008 who was taken over by DHX Media in October 2012.
---
Betcha Didn't Know This!
Have you ever wondered about a possible connection between our Presley Carnovan and the King, Elvis Presley? Well Kathy and Mark of Pasadena, Texas thought there might be a connection, and asked us about it.
We inquired and to our surprise, this was the response from Seth Kearsley:
wow someone was on the ball :-)

I didn't think that anyone would catch that. It was really vague but yes. That's why Presley was named Presley. In 101, Rath says something like "Your father's house in Memphis was much larger" and then Presley replies "how'd you know my dad was from Memphis." I think there's another reference to Memphis and Elvis in 112 too when Presley and Ja-Kal are fishing.

Someone has a good eye. I thought for sure that was going to slip by everyone and just be sort of an inside joke for the people that worked on the show. In the episode that I wrote, Presley's dad was supposed to be named Aaron to get a little more Elvis in there.

Good catch
We also remember in Dog Bites Mummy when the bully Tiny Turner asks Presley: "What's in the bag, Elvis?"
---
The Voices of the Characters
IMDB has a great page for Mummies Alive listing all the people who participated in the show.
The voices of the main characters are:
Voices of other characters we know:
Additional Voices include:
Mummies Alive Theme and Cues by: Raw
Music by: John Campbell
The author of Mummies Alive was: Louis Gassin
Gordon Hammond's first job was working as a prop designer on Mummies Alive. He later drew Fairly OddParents.
Reviews of Mummies Alive
Amid Amidi did a rather uncomplementary review for the Animation and Cartoon Heaven in his article: "The Latest DiC Disasters" (no longer on the web).
By comparison, here is the review done by Gerard Raiti for Mania Magazine:
Mummies Alive!
This is by far the best new cartoon this fall! The stories are creative, action-packed, mysterious, and all-around exciting! It has generally been winning its time slot against shows such as X-Men (syndicated repeats), Bohot Kids Network - Extreme Block, Ducktales, Marvel Superheroes, Mighty Ducks, and Mr. Men. It is getting average ratings of 1.3/5, which is good considering its syndicated. Again, this is the best cartoon on TV! If you are a He-Man, Thundercats, Silver Hawks, or Gargoyles fan, this is the show for you!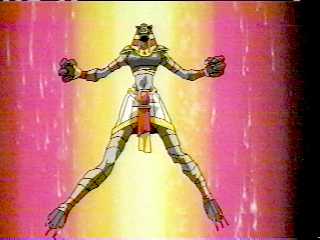 Nefer-Tina after transformation
Daddy's Page | Mommy's Page | Brenna's Page | Brittany's Page
Our New Addams Family Home Page

You can reach us by e-mail at:

Copyright © Louis Kessler
All Rights Reserved