The New Addams Family

Behind the Scenes

and AWARDS!

The People Who Make the Show Happen
The New Addams Family is produced by Shavick Entertainment, Inc. Production began in 1998 and took place in Vancouver, B.C., Canada. All the regular actors/tresses are Canadian except for Glenn Taranto and Nicole Fugere, and this production truly shows off the contributions of the Canadian Film industry at its finest.

The show is based on the characters created by Charles Addams, who lived from 1912 to 1988. Ron MacCloskey wrote an excellent biography of Charles Addams.

The show continues the tradition of the original Addams Family TV show that aired in the 1960s and starred John Astin as Gomez. Many of the original episodes were updated and rewritten and used in the new series.

The 9 Feb 1999 edition of the Vancouver-based TV talk show Gabereau Live featured the cast of the New Addams Family. The hour long show included interviews with the main cast members, plus a bit of visual effects, make up, and props. A fascinating show we hope you saw. Here is an interesting little bit from the show:
"It's all eyebrow acting ... I (Morticia) have the one eyebrow, Lurch has both, ... and Fester has no eyebrows." "Betty (Mama) - who could see?" "Michael (Fester) does not need eyebrows. ... Michael is the black hole of comedy - all the humor just goes right to him."

The Main Cast
They are all just perfect for their parts. Hats off to the casting director for this show, who put together the best Addams Family cast ever!
Glenn Taranto as Gomez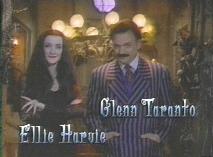 Glenn is amazing. He just about duplicates the look, mannerisms, and feel of his idol John Astin - who played the original Gomez. They get to play together in a couple of episodes (with John Astin playing Grandpapa Addams), and in Grandpapa Addams they get to show off those similarities. Glenn must really be having a great time playing the part of Gomez. He appears to be completely enjoying himself during every episode.
Be sure to check out our interview with Glenn Taranto!
And see Lonneke Bakx's superb Fan Site in honor of Glenn Taranto.
Glenn's Film and TV Credits
Ellie Harvie as Morticia
Born and raised in Winnipeg, Manitoba, Canada [Yay!!], Ellie has amazing breadth of emotions and shows off her superior acting skills to the fullest.
Ellie's Film and TV Credits
Michael Roberds as Uncle Fester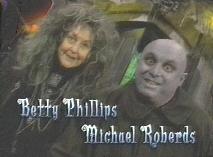 What can you say? Michael was born for the part. He is and defines Fester. When you think of Fester, you think of Michael. But underneath all that is truly a great actor. Take a look at some of his masterful expressions over the course of the series and how involved he always is in every scene. We are looking forward to great things from Michael after Addams Family. Michael shaved his head every morning before shooting. Before the series started, Michael had hair and a mustache.
Be sure to check out our interview with Michael Roberts!
Michael's Film and TV Credits
Betty Phillips as Mama
Betty just goes on and very naturally plays a very convincing Mama Addams. You can't help but love her and she really seems to be the common thread that binds everyone together. Betty has been a very accomplished actress for 50 years.
Betty's Extensive Film and TV Credits
Nicole Fugere as Wednesday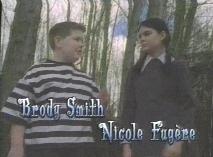 She makes us shudder, she is so good at acting so creepy and sinister. Its not easy acting emotionless all the time. We'd love to see some outtakes when she loses it, but I bet it was hard to get her to. She handles her lines superbly and does add extremely effective emotion when needed. Nicole also starred as Wednesday in the third major Addams Family Movie made in 1998 titled "Addams Family Reunion" and was just as good there.
Nicole's Film and TV Credits
Brody Smith as Pugsley
Brody actually adds some character to a characterless part. A superb job for a first-time actor. Great scream!
Brody's Film and TV Credits
John DeSantis as Lurch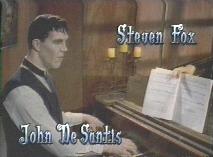 How tall is John? On Gabereau Live, he admitted to being 6 foot 9 inches. Some scenes of John are unforgettable - such as when he gets ready and starts to play his Bogandorper piano and realizes its "GONE!". John really has blond naturally curly hair, and had to have his hair colored and straightened before filming.
John's Film and TV Credits
Steven Fox as Thing
Steven is terrible. His facial expressions are non-existant, you can't hear him speak his lines, and the makeup doesn't do anything for him. Why I bet he didn't even do his own stunts. He'd be better as a foot soldier doing some leg-work. But we've got to give him a hand - one thumb up! Seriously though, Steven wore a black suit during filming to make it easy for everything but his hand to be removed from the scene. Sometimes his stunt double (a cast of his hand) would be used for a scene.
Steven's Film and TV Credits

Notable Guest Appearances
John Astin as Grandpapa Addams

John - the original Gomez Addams - from the 1964 Addams Family series comes back as his own grandfather. He is ageless as he perfectly recreates the part he loves yet again. Obviously, he loves the part and can do it over and over and over. He even was the voice of Gomez Addams in the cartoon Addams Family that was produced in the early 90's.
John's Extensive Film and TV Credits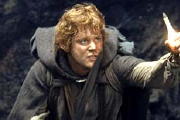 John is the father of Sean Astin who is most noted for playing Sam the Hobbit in Lord of the Rings.
Jerry Van Dyke as the Halloween Robber
Jerry is superb. Jerry has appeared everywhere and anywhere. He couldn't pass up the New Addams Family. (1.13)
Diane Delano plays escaped convict Ginger Gruber
Diane has the distinction of also having played in the Addams Family Reunion movie where she played the part of Delores. She and Nicole Fugere were the only ones from the movie to go on and play in The New Addams Family TV Series. (1.17)
Morgan Fairchild
Morgan does a wonderful job of playing Lady Pretensia. She seems to love the roll. She gets electrocuted twice and blown up once. (1.36)
David Faustino
Best known as "Bud" in Married With Children. His evil laugh is priceless. (1.38)
Brendan Fehr as Sam Sedgewick - One e-mail we received asked us who was that hunk of a guy in the episode Wednesday's Crush (1.34). Brendan spends most of the show getting blown up. We have found out that the tattoo on Brendan's left arm is not real. Brendan official website is at: http://www.brendan-fehr.com/. We were surprised to find out that like Ellie Harvie, Brendan grew up in Winnipeg.
Scott Swanson as Donald Grump
Scott deserves mention as an aspiring actor who took the time to e-mail us and complement us on our New Addams Family site. (1.59)
Darryl Scheelar plays the cat burglar. But Darryl's main claim to fame is that he is also Glenn Taranto's stunt double. Too bad that he doesn't talk and you don't get to see his face in his cat burglar part (1.31) .
Snoshoni is the lioness who plays Kitty. (1.17)
Shauna Nep as Mary
I have to mention Shauna, because she is our cousin who has done some acting and lives in Vancouver. We were quite surprised and excited to see her get a part on the episode Fester, the Marriage Counsellor (1.53) as Mary, the girl who takes advantage of Pugsley. She does a great job and even gets to fall into the well.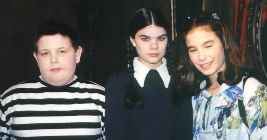 Brody Smith, Nicole Fugere, and Shauna Nep between scenes

AWARDS!
In addition to the actors, hats off to the makers of the show and those who were in charge of makeup, the wardrobe, set design, and explosives. Absolutely superb!
Congratulations!
Celebration Awards Ceremony
Chan Centre for the Performing Arts, Vancouver, BC
May 6, 2000

The LEO AWARDS went to:
Music, Comedy, or Variety Program or Series
Best Director of a Music, Comedy or Variety Program or Series
George Erschbamer - The New Addams Family Morticia the Playwright
Best Screenwriter of a Music, Comedy or Variety Program or Series
Arnold Rudnick, Rich Hosek - The New Addams Family Tale of Long John Addams
Best Cinematography in a Music, Comedy or Variety Program or Series
Rod Parkhurst - The New Adams Family Gomez, The People's Choice
Best Editing - Picture of a Music, Comedy or Variety Program or Series
Michelle Conroy - The New Addams Family Tale of Long John Addams
Best Overall Sound in a Music, Comedy or Variety Program or Series
Rick Bal, Vince Renaud, Chester Bialowas, Jo Rossi - The New Addams Family Tale of Long John Addams
Best Production Design of a Music, Comedy or Variety Program or Series
Cathy Robertson - The New Addams Family Tale of Long John Addams

---
Congratulations!
Gala Awards Ceremony
Hotel Vancouver, Vancouver, BC
May 13, 2000
The LEO AWARDS went to:
Music, Comedy, or Variety Program or Series
Best Music, Comedy, or Variety Program or Series
The New Addams Family - James Shavick, Victoria Woods
Best Performance/Host of a Music, Comedy or Variety Program or Series
Ellie Harvie - The New Addams Family Fester, The Marriage Counselor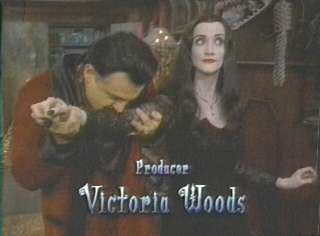 Addams Family stuff is available at:




Daddy's Page | Mommy's Page | Brenna's Page | Brittany's Page
Our Mummies Alive Home Page


You can reach us by e-mail at:

Disclaimer - The New Addams Family is the property of Shavick.
This content about the show is ours but the show belongs to them.

Copyright © Louis Kessler
All Rights Reserved