The New Addams Family

Other Neat Things

The Rules - Addams Family Style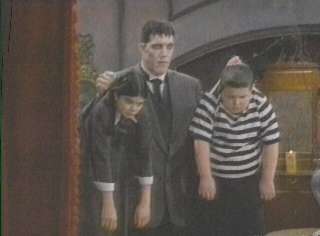 Smootchies up the Arm
Morticia does many things that can drive Gomez wild:

What's For Supper?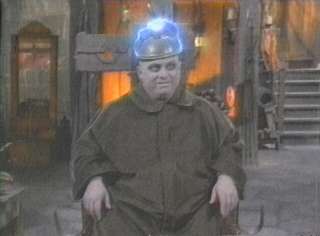 Wednesdayisms
"When hanging someone by the foot, it is important that their hands not touch the floor. Otherwise they can get splinters." (1.02)
"Denial sooths the guilty conscience" (1.02)
"When burying someone alive, it is more humane to do it after they have eaten, so they wont be hungry too." (1.03)
"Mass destruction is over so quickly, there's no time to enjoy it." (1.05)
"When burying your spouse, it's best not to use a shallow grave, as the leakage could kill your Geraniums." (1.06)
"When pushing someone out the window, its best to gag them first so their screams don't disturb the help." (1.07)
"When throwing someone down the stairs, it's important not to push too hard, otherwise you can pull a muscle." (1.11)
"There's nothing worse than bad rope." (1.17)
"When setting Santa's beard on fire, it's best to use a blowtorch. Matches can burn your fingers." (1.28)
"When firing a crossbow at someone's head, it's best to do it at close range. That way the air can penetrate the cranium smoothly." which was rebutted by Sam Sedgewick with: "Actually, it's best to do it at medium raange. That way the arrow has a better chance of piercing both sides of the bone." (1.34)
"When drowning someone in freezing water, it's best to tie their hands together with rope. Handcuffs can rust." (1.36)
"Houseguests should be eaten and not spared." (1.36)
"When polling prospective voters, always make sure the poll has been sharpened to a very fine point." (1.37)
"When experimenting with alien technology, one should always make sure to use an expendable guinea pig." (1.38)
"When smashing a guitar onstage, it is always best to do it over someone's head. Otherwise you might scratch the floor." (1.39)
"When burying someone alive, it's best to pack the dir nice and tight. Otherwise they won't have trouble breathing." (1.40)
"When meeting a stranger for the first time, it's best not to expose your fingers, otherwise they might get bitten off." - as explained to a bellhop asking for a tip. (1.50)
"When being tortured, its best to take a deep breath before screaming. That way your cries will echo much longer." (1.62)
And a young Morticiaism: "When socializing with others, it's best not to put glass in their iced tea. Cyanide is more effective." (1.15)
And how about some Gomezisms: "A man who doesn't tell the truth, is like a horse with one leg missing." (1.42) On second thought, forget the Gomezisms.
And a few Funny Fester Filibusters:
"Sorry. Sorry. Sorry. Sorry. Sorry."
"It stinks to be single. It stinks to be single. It stinks to be single."
"Pocketwatch. Pocketwatch. Pocketwatch."
"3-D. 3-D. 3-D."

Light Reading

Useful Spells and Potions to Try at Home

Did you Catch These Hidden References?
Vlad refers to "Dead Man Walking". (1.01)
Lurch (the good?) looks on as Fester (the bad?) and Mama (the ugly?) in Western garb shoot at dummies with background music that is reminiscent of the movie "The Good, the Bad, and the Ugly".
Officers Pepper (Policewomen with Angie Dickenson) and Fife (Officer Barney Fife from the Andy Griffith Show). Detectives Cannon (from Cannon) and Lacey (Cagney and Lacey). (1.09)
See Riverdance performed by Fester and Lurch (1.10)
Lurch is the prince in Cinderella. (1.10)
Gomez is fencing against no-one (perhaps an invisible man or something.) He says: "My name is Gomez Addams. You made my father laugh. Prepare to die." In the movie "The Princess Bride (1987) there is a man called Inigo Montoya who was fencing against a man with six fingers on his right hand, and he said: "My name is Inigo Montoya . You have killed my father. Prepare to die." - From Lonneke Bakx http://www.geocities.com/bigaddamsfan (1.12)
Pugsley: "I called that explosion predictable and gratuitous". Wednesday: "Really? I gave it two thumbs up." (like Siskel and Ebert) (1.13). Gomez gives 3 thumbs up to Fester and Wednesday's movie (1.60)
Max Shatner, the toupee salesmand from "Toupee of the Stars" was obviously a dig into William Shatner of Star Trek who is infamous for his toupee. (1.17)
This series has everything! Even Fidel Castro! (1.19)
"I'm James Cameron, King of the World" (1.20)
From My Fair Lady: "The Dane in Spain is Completely Insane." "I think you've got it."
Dueling Windows - Dox Quixote (1.21)
Dr. Cratchet - One Flew Over the CooCoo's Nest. (1.21)
Mrs. Flanders and her son Bart (the brat). Aren't the Flanders the neighbors of The Simpsons? (1.25)
Mrs. Dorothy and her dog Toto. Obvious! (1.25)
Gomez racing in slow motion as in the movie "Chariots of Fire" (1.26)
Fester playing Humphrey Bogart as Sam Spade in the Maltese Falcon (1.26)
Indiana Jones' boulder (1.27)
"My name is Addams. Gomez Addams." - Gomez as James Bond (1.28)
Miss Pippins, the housekeeper. "What a nut" (1.29)
Three Robert DeNiro films in one episode: "You growling at me?" from Taxi Driver, "Come out, come out, wherever you are" from Cape Fear, and the baseball bat with the kids from The Untouchables (1.30)
"We can only hope so darling, we can only hope" - Gomez with cigar imitating Groucho Marks. (1.32)
Gomez does a bit of a Rocky-like celebration while boxing with Fester. (1.33)
Mrs. Drysdale's name is probably taken from Mr. Drysdale, the banker of Beverly Hillbillies (1.33)
Sandy Warhole refers to Andy Warhol (1.35)
Mama and Fester model as the farmer and his wife in the painting "American Gothic" (1.35)
Cartoon butterflies, bunnies, and birds, including a cartoon bird that lands on Gomez' shoulder is reminiscent of Snow White and Mary Poppins. (1.35)
Gomez and Fester as 2 cool guys from Saturday Night Live (1.35)
The big fight in "Rocky", and "I could have been a contender" from "On The Waterfront" (1.37)
Wednesday and Pugsley wear their Mission Impossible clothes as they spy on the aliens (1.38)
Horrors!!! The Brady Bunch!? "Marsha Marsha Marsha" says Wednesday to Fester (1.38)
Jeeves shouts: "I'm coming to get you Wednesday, and your little dog too" (1.39)
Star Trek: "More Power Fester!" "I'm givin' it all I got Captain" (1.38)
Hurricane Zorba saw Mr. Bates (Psycho) in a chair, the wicked witch, and a cow fly by as in the Wizard of Oz, as well as a Tidal Wave from Hawaii Five-O. (1.40)
"Alone again. Naturally" - the song (1.41)
"Harveyitis", from the Jimmy Stewart movie "Harvey" (1.41)
Fester and Wednesday do a "Mission Impossible" chase of the cat (1.41)
Gomez does a Patton scene in front of a giant American Flag (1.42)
As Gomez swings on a vine, Morticia calls out: "Ooh look out for that ... Wall" as in George of the Jungle. Gomez faintly responds, "Me Gomez. You 'Tish" from Tarzan. (1.43)
"Who was that Master Warlock?" from the Lone Ranger. "And we never even had a chance to thank him" was Gomez imitating Walter Brennan. (1.43)
The title, "Saving Private Addams", refers to the movie "Saving Private Ryan" (1.45)
General MacPatton is a take-off of Generals MacArthur and Patton (1.45). "I shall return", he says.
National Velour refers to the movie National Velvet, the screen debut of Elizabeth Taylor (1.46)
"Why its a horse of course", from Mr. Ed (1.46)
Elsa looks somewhat familiar. Could she be The Bride of Frankenstein? (1.47)
"Every girl is crazy about a Sharp Dressed Man" - ZZ Top (1.47)
Everyone knows Elvira. And Tabatha is from Bewitched. They arrive with a Dragnet-like demeanor (1.47)
Remember that cute song that sort of went: She wore a "Itsy bitsy amber colored woman's bikini with white dots". (1.50)
Sir Winston Churchill: "We shall defend our home no matter what the cost. We shall fight in the cemetery. We shall fight in the den. We shall fight in the kitchen. We shall never surrender." (1.51)
Gomez and Fester fight for the right to lick the machette like The Three Stooges. (1.52)
"Simon. This is Garfunkle." (1.52)
Let's Make a Deal (1.54)
"Lurch, play it again", from Casablanca (1.54)
Wednesday and Pugsley play as Holmes and Watson (1.55)
"Who you gonna call? Ghostbusters" (1.56)
"That's no lady. That's my wife" - Henny Youngman (1.56)
Frankenstein. Star Wars. You couldn't have missed them! (1.57)
The Beverly Hillbillies - "I was out with cousin Pa, huntin for a toad, when underneath a rock, I find this glimmering gold". "Ya all come an visit now ya hear". "They sold the golden nugget, and moved to Beverly ... Hills. That is amazing." (1.58)
The movie: Deliverance. Dueling banjo's. Morticia had a banjo sent in "special deliverance". (1.58)
What commercial does this remind you of: "Nothing says lovin' like something from the coven" (1.58)
Donald Grump (i.e. Donald Trump) (1.59)
The rolling menacing ball of Indiana Jones. (1.59)
FBI Agent Bond (1.59)
A bit of a cross between "A Tale of Two Cities" and "The Prince and the Pauper" (1.62). During the show, Glenn Taranto was doing his James Mason immitation.
The drag race just has to be a takeoff of the movie "Grease" (1.64)
Gilligan's Island - Gomez is delerious and says, "I'm fine skipper. Just tell Mary Ann and Ginger I put the coconuts in the lagoon." (1.64)
The Carol Burnett Show: "I'm so glad we had this time together" - Gomez (1.65)
Casablanca: "As appealing as our problems may be, they don't amount to a hill of beans in the balance of the universe" - Gomez (1.65)

Everything Else
The unique scene changes are pure genius. Look for scenes changing using bats, axes, lightning bolts, cracking glass, blood dripping, guillotine (''Tish - that's French!) falling, and even crashing into the camera cracking the camera lens. Also, sudden mood changes are often highlighted by the background music being interrupted by a scratching of the record.
All is not constant during the series. Look for changes in the mailbox and the creature in it. There is more than one flavor of the "Beware of Everything" sign. The inside of the front door is considerably different in the 2nd last episode (1.64), and in a running gag, the object that is in the shark's mouth is different every show.
Fester's bombs, explosives, dynamites, and explosions in general are quite fun. Which show do you think has the most explosions?
Why is there so much foliage at the front and back of the house, yet the scene-change shots of the house show no foliage whatsoever?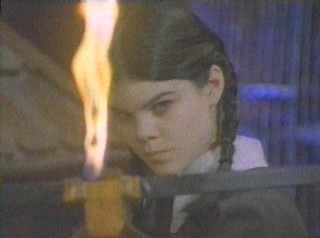 Addams Family stuff is available at:




Daddy's Page | Mommy's Page | Brenna's Page | Brittany's Page
Our Mummies Alive Home Page


You can reach us by e-mail at:

Disclaimer - The New Addams Family is the property of Shavick.
This content about the show is ours but the show belongs to them.

Copyright © Louis Kessler
All Rights Reserved