The New Addams Family

Show Summaries

A total of 65 shows were produced for the first season 1998/99. There are no plans for a second season, but the show should live on in reruns for quite some time.
Summaries for all the shows are given below. They are listed in their proper order.
---
1.01 - Deadbeat Relatives
Wednesday recites an incantation and brings cousin Vlad Addams back from the grave. Vlad wants to kill Gomez and marry Morticia, but is unsuccessful in his attempts. Gomez becomes despondent when he incorrectly thinks that Morticia is accepting Vlad's advances. Wednesday, Pugsley, and Fester try to stop Vlad. Vlad and Gomez have a most interesting duel of various instruments (including pillows and thumb wrestling). But finally, Wednesday is able to complete the incantation to return Vlad from whence he came.
Neat Things: This was officially the first show of the series, but episode 13 - to coincide with the 1998 Halloween season was actually the first one broadcast. The special effects on this show are not the best. Vlad's being cut in half and having a hole blown through him were less than spectacular, although Vlad's pulling the toothpick out of his mouth was not bad. The effects get much better during the rest of the series. The duel between Gomez and Vlad is a classic.
1.02 - The Addams Family Goes to School
The school board finds out that Wednesday and Pugsley have never been to school, and insists that they be enrolled immediately. Gomez and Morticia are rightly concerned about how the first day of school would be for the kids. Wednesday and Pugsley return with the horror of a dragon being killed in Grimm's Fairy Tales. But everything is straightened out when the school board reps come to the Addams house.
Neat Things: Wednesday and Pugsley's "coffin" backpacks are neat. Gomez and Morticia elegantly tango to Lurch's music. Gomez gets to play with his trains for the first of many times in the series. Many of the scenes from the New Addams Family opening credits are from this show. This was most likely also the first show produced. It is very interesting to see how the characters started out a bit different. Gomez was more dramatic and his hair was slicked back. Morticia had wavy hair and was more aloof and mysterious. Fester had black eyes in some scenes.
1.03 - Morticia and the Psychiatrist
Pugsley came back from school and the family was horrified to find out that he joined the Junior Troopers. Morticia calls a psychiatrist who suggests that Pugsley just wants their attention, and to indulge him. They try, and even invite the Junior Troopers over, but Pugsley doesn't change. So Morticia calls the Psychiatrist over to their house to talk to Pugsley.
Neat Things: This show would have been better named as "Pugsley and the Psychiatrist". An excellent opening scene has Thing "running" through the house to Pugsley's room with the family following. The Psych makes a great slip when he says: "you and your sinister, er... sister". Great diagonal camera angles were used in this show.
1.04 - Morticia Joins the Ladies League
Morticia invites the PTA over to her house for a meeting. Pugsley wants to go to the circus to see Gorgo, the amazing (non-)flying gorilla. Gorgo and Pugsley become immediate friends. That night Gorgo breaks out to be with Pugsley. At the Addams house he starts doing the household chores and Lurch becomes jealous. Then the 5 ladies from the PTA come over ...
Neat Things: Gorgo was very well done - you can hardly tell it was a monkey suit - but he was a bit too silly. Getting the ladies drunk was very amusing. Wednesday has a great look at the beginning of the show when she says "I win". This show really highlights Lurch nicely, and shows the family's devotion to him. Lurch is great when he turns on the music and puts on his shades. Also see him skip rope with Wednesday.
1.05 - Fester's Punctured Romance
Fester broke up with his girl friend Cruella and goes into a state of depression. The family tries to help him out, and everything looks real rosy when it appears that Lucretia, Fester's date by mail order has arrived. Just to make sure, Mama mixes up Love Potions 666 and Wednesday administers it.
Neat Things: This episode is great. It is fast-paced and full of great lines and scenes. You have to watch Gomez and Morticia make a "Festervision" video. Then Gomez and Morticia play different games including Poker, Gin, Chess, Backgammon, and Checkers, and Morticia wins 361 in a row - while at the same time Fester has magnificent scenes as he awaits Lucretia's call. Mama actually makes a potion that works, and her antidote works too! Also, make sure you see Pugsley as a Piñata.
1.06 - New Neighbors Meet the Addams Family
Newlyweds, Hubert and Amanda Peterson move in to the house they leased next door, owned by the Addamses. As they find out about their new neighbors and landlords, they try desperately to get out of the lease.
Neat Things: The best scene is when the Petersons are running through the halls of the house trying to get out. Pugsley falls from the sky after stepping on one of Fester's land mines.
1.07 - The Addams Family Tree
Wednesday gave Harold Pomeroy a black eye at school after he said his family was better than hers. His smug father, Cecil Pomeroy comes to the Addams family house for an apology. Cecil and Harold get to "enjoy" the family Addams. But with their interest now aroused in their own genealogy, the family hires professor Sims to do some research for them.
Neat Things: Gomez does one of his great back flips. See the game Twist Twister in action. Lurch wears his driving hat. Fang may appear at the end of this show, but don't panthers have spots? See Fester try to handle a bat-a-ball. Another great line by Wednesday: "We never kid". Gomez gets outclassed again by Morticia in a duel. See G and M in some fast smootchies. Lurch plays violin in the cemetery.
1.08 - Morticia, the Matchmaker
Cousin Melancholia's fiancee ran out and left her, so she shows up at the Addamses house all despondent. They try to find her another suitor - the mailman who zooms off, Lurch wouldn't agree, Fester only dates criminals, and Thing fingers off. But the unwilling Ralph Harvey, trying to save his Law Firm's account with the Addamses, is coerced into dating and getting engaged to Melancholia.
Neat Things: Lots of good stuff in this show: See Gomez do the stairs at supersonic speed. In a great scene change, Thing pulls the next scene down over the current one. A great line by Wednesday: "Sometimes I think I make people nervous." Gomez plays with his toy cars. In one scene, Melancholia gets dressed up and acts just like Morticia. Gomez has a great sword fight with Mr. Harvey and Lurch applies the sponge while Morticia and Melancholia relax and have tea and Fester watches eating popcorn and holding a "Go-Mez" banner. Morticia shooting a candle off Gomez' head with a flaming crossbow.
1.09 - Wednesday Leaves Home
Wednesday unleashed 20 starving alligators in the sewers. The police came after her. Gomez and Morticia ground her for a week for cruelty to animals. She would not be allowed to play with her weapons, start any fires, or torture here brother. So Wednesday runs away.
Neat Things: Officer Fife gets a real work over at the Addams house. Best line: Officer Fife says: "You cannot buy your way out of this" and Gomez replies: "Why? Has there been a change in policy?". Fester finds a near look-alike potential girl friend at the police station: too bad this potential relationship was not explored further. But the best scenes are Wednesday in the Police station. First Detective Cannon finds interesting things in her bag. Then Wednesday is taken to Juvenile holding, where the girls see Wednesday and say "This is going to be fun", but end up learning about the Demonian Death Grip.
1.10 - Lurch Learns to Dance
Lurch is a great butler, but he can't dance! When invited to the Butler's Costume Ball, Lurch refuses to go because of what happened at the last dance he went to. A dance instructor and then Fester and Gomez give Lurch dance instructions, and finally Lurch is persuaded to go. But who will be the Cinderella of the Ball?
Neat Things: Two great scenes include Fester and Lurch river-dancing, and then Gomez tangoing - first with Morticia and then with Lurch. The costumes at the Ball are amusing. Lurch looks great as Zorro.
1.11 - Art and the Addams Family
Wednesday comes back from school after painting a black rainbow and she got an "F" on it. Her teacher, Miss Crank, says she may fail art if she doesn't use color. So Gomez tries to hire the world famous artist Leopold DaMinci as an art Tutor, but gets Leo DaMinci, an Italian Pizza delivery man instead. Meanwhile, Mama falls in love with the postman, and Fester helps her try to trap him.
Neat Things: Mama has two slow motion scenes of "love". Wednesday does a terrific job of terrorizing Leo, who keeps trying to escape her but never quite succeeds. An interesting scene change occurs when a guillotine blade drops over the screen.
1.12 - Cousin Itt Visits the Addams Family
Cousin Itt's girlfriend Contessa threw him out because she found out about Eudora and Simone and Lucinda, Monica and Cosuma. He came over for a place to stay since he was also broke, having lost his entire fortune at the roulette table. So he tries to get a job - at a Burger joint, then as a receptionist, then a hair stylist, and finally at the zoo. Meanwhile, Mama has been giving everyone extremely inappropriate gifts.
Neat Things: Near the beginning of the show, you see Itt's Ittmobile. Strange that Lurch didn't seem to know Itt. 'Tish expertly tosses and catches a boomerang the first time she tries. Gomez and Morticia do a wonderful Flamenco Dance with Gomez dressed as a Gypsy. See Wednesday wear deeley boppers.
1.13 - Halloween With the Addams Family
Halloween: It's the most wonderful time of the year for the Addamses. Mama makes a special Halloween feast, Gomez carves the pumpkin, Fester bobs for grenades, and Wednesday and Pugsley dress up as two of history's most frightening and hideous creatures: Siskel and Ebert, and go out trick or treating. To top this off, the Addamses are treated to being robbed, which they most thoroughly hoped to enjoy.
Neat Things: Jerry Van Dyke is marvelous as the main bank robber. Too bad the part for his son was more of a distraction. Detectives Cannon and Lacey make an appearance (see 1.09). Don't miss Lurch's burp.
Here's the opening verse:
'Tis Halloween night and all through the Mansion
many creatures were stirring in their own grisly fashion.
Uncle Fester was hung in the closet upstairs
While Grandmama snoozed in her favorite chair.
Wednesday curled up dreaming Halloween dreams
too sleepy to hear Pugsley's bone-chilling screams.
Lurch settled in for his Halloween nap
while Thing dressed for bed in his P.J.'s and cap.
On goblins, on demons, on creatures of sin.
On Comet, on Cupid, on Donner and Blitzen ...
It's almost that time for treating and tricking.
For haunting and scaring and screaming and kicking.
And the night air was filled with horror and gloom
as wolves outside howled at the moon.
It's the one time of year when everything's right.
Happy Halloween to you, and to all a good fright.
1.14 - Thing is Missing
Its Thing's birthday. Thing opens Fester's mail and Fester and the family yell at him and none of them remember his birthday, so Thing runs away. The stress of fighting with Thing causes Fester to start growing hair on his head.
Neat Things: Rookie Private eyes Boyd and Howe are marvellous as they try to find Thing. Fester's hair grows fast when he's stressed. The eulogies for Thing at his funeral are very nice.
1.15 - Morticia's Romance - Part 1
Gomez and Morticia are celebrating their 13th Anniversary. Wednesday and Pugsley ask them how they met. So they are told the story. Gomez was pre-ordained to marry Morticia's sister Ophelia for whom he had no affection. But he and Morticia were love at first sight.
Neat Things: This is a very important show as it shows how Gomez and Morticia got together. Young Gomez has black sideburns. Young Morticia has braids and is dressed and acts somewhat like Wednesday.
1.16 - Morticia's Romance - Part 2 Wednesday and Pugsley ask to hear the rest of the story about how Gomez and Morticia met. The story continues with the complications that arose when Cousin Itt and Cousin Vlad became involved.
Neat Things: This show was the only two-parter produced. Wednesday sums up with: "A duel, a death, a funeral - I just love weddings."
1.17 - Uncle Fester's Toupee
Ginger, a girl Fester has been e-mailing is coming to meet him. But Fester lied to her about himself, and wonders what he's going to do about his hair, which he told her he has. So a toupee salesman is called. Fester's grand appearance in front of Ginger is stumbling at best, but the courtship goes on ...
Neat Things: The best scene in the show was a video-like sequence with Fester and the family trying on various toupees. Later in the show, we find out that Fester and Ginger had been writing each other for only 4 days "but it felt like 5". Wednesday found out that Ginger was an escaped convict from www.escapedconvicts.com
1.18 - Gomez, the Reluctant Lover
Pugsley comes home with a crush on his teacher. He takes one of the love letters that Gomez sent to Morticia, and sends it to his teacher. When she comes to the Addams family house to inform them about it, she is led to believe that Gomez sent it. She falls for Gomez. Mama and Morticia tell a reluctant Gomez to go right after her and she'll run off.
Neat Things: The mood is set early as Gomez is attracted to Morticia's clay-making. There's a quick view of Kitty near the start of the show. Gomez does at least 11,128 pushups. The best lines in the show were Wednesday: "I had to tell them. They refused to drag it out of me." and Fester when referring to what Mama and Morticia told Gomez to do: "Like putting out fire with gasoline."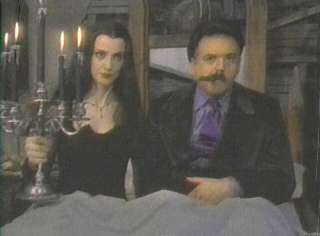 1.19 - The Winning of Morticia Addams
Fester reading an article by Dr. Pierre LeBlanc titled "The Dangers of a Happy Marriage", gets the family to try to help make Gomez and Morticia fight with each other. When he fails, he calls up Dr. LeBlanc who comes over and tries to steal Morticia from Gomez. So, Gomez challenges Dr. LeBlanc to a duel.
Neat Things: Mama gets mad at Fester twice, and first calls him "Sparky" and then "Forehead". A few boo-boos: Morticia says "Bouillabaisse fit for a king" and Gomez does not react at all to the French. Later in the show, Gomez is frightfully inept with a sword, which is in direct contrast to his skill in other shows. Best groaner: LeBlanc says, "You will rue the day that you crossed swords with Pierre LeBlanc". Gomez retorts: "Not to worry. I am an Addams, sir. We live to rue."
1.20 - My Fair Cousin Itt Cousin Itt was very disappointed that he didn't get the role of Hamlet at the theatre. So Gomez dusts off an old play he wrote, casts Itt as the lead, and hires a director for it. The director refuses to work with Itt because his voice is not deciferable. So Morticia trys to get Itt to slow and lower his voice. Itt's voice changes, but so does his personality.
Neat Things:Gomez' play was titled "Death, Demise and Destruction - A Romantic Comedy". Gomez wrote it when he had aspirations of being a playwright, but found he had no talent. For a brief instance, you get to see through Itt's eyes. Check out Itt's English accent once his voice changes.
1.21 - Grandpapa Addams Grandpapa Addams comes to stay with the family while they rebuild his neighborhood. The family knows he still misses his late wife, and make arrangements to surprise Grandpapa with a a gift to him of two weeks at Club Dead - a swinging resort for singles over 50. Grandpapa finds out but mistakenly thinks he's being sent to a nursing home so then tries to prove his youth to the family and pretends to be 50 years younger.
Neat Things: A great set of scenes when John Astin as Grandpapa arrives. "He's here, he's here, ha ha ha!", shouts Fester. "I'm so excited", says Mama. The door opens. There he is and Grandpapa exclaims: "I'm back!". He greets everyone and then calls: "Where's that young Gomez?". When Gomez arrives, he and Grandpapa show off their amazing similarities. Grandpapa then gives a toast "to family and to standing 3 inches taller."
1.22 - Morticia's Favorite Charity
The family is selecting stuff to donate for the charity auction. When the family donates Pugsley's tiger-head clock, Pugsley goes up the chimney and refuses to come down. So Gomez and Morticia go to the auction to bid for the clock and win it back.
Neat Things: After Morticia feeds the fish, Gomez comes in and thinks they ate Pugsley: "Bad Fish! Bad Fish! You're supposed to be man-eating, not round little boy-eating!". At the auction, Gomez is number 13, and Morticia is number 666. Fester proves his selfishness and doesn't want to give anything. When he turns up inside his iron maiden, a bidding war starts for Fester, and the ladies bid up to $90 when the scene ends.
1.23 - Fester Goes on a Diet Fester's internet chatroom girlfriend is coming to visit. He feels he is out of shape and wants to lose weight. The family tries to help him and even get him a personal trainer. Meanwhile, Wednesday finds Uncle Ripper's magic kit and plays magician with Pugsley as her volunteer(?) victim.

Neat Things: Cutest clip in this show is when Fester is getting trained - army style. Best line is when Fester calls himself "a big pathetic molten blob". Watch Fester throw his computer out the window - something we all have the urge to do from time to time - as he says those familiar words: "That computer gives me nothing but trouble." At the start of the show, the family baseball game ends when Gomez calls Ted Turner: "Ted Turner here."-TT "Ted, listen. I think I'm going to pass on those Atlanta Braves of yours."-G "Oh, that's too bad."-TT "Yes, right. Well, give our love to Jane."-G "I will. Goodbye."-TT
1.24 - Morticia's Dilemma
Gomez' old friend Senior Don Xavier Malina arrives with his daughter Consuela and her chaperone Maria. When Gomez was 10, he had proposed to Consuela, and now that she is turning 25, Senior Malina is here to see them married. Gomez remembers nothing of this. Morticia is told, and she tries to get her Gomez back, without knowing Gomez' innocence. Meanwhile Maria goes after Fester, who in this case is not a willing object of affection.
Neat Things: Cousin Itt makes a brief appearance in this episode. Their is an interesting duel between Senior Malina and Gomez.
1.25 - Morticia, the Breadwinner
The Stock Market crashes. Morticia and Fester know that Gomez has almost all his money in the Stock Market and overhear Gomez talking on the phone. From the conversation, they think he's lost everything. So the family seeks employment. Mama markets her "Mama Addams Beauty Cream", Morticia does pet grooming, Wednesday and Pugsley first sell refreshments and then babysit, and Fester with Lurch's help open "Macho Male Escort Service". When none of that works, the family has a garage sale.
Neat Things: The title is somewhat misnamed as it is the whole family (except Gomez) that tries to earn money. The employment scenes are lots of fun. Best line: "I'll have to have a talk with Mrs. Dorothy - and her little dog too."
1.26 - Melancholia Finds Romance
Cousin Melancholia and her fiancee Digby Henson are a very happy couple as they arrive at the Addamses house. Fester is suspicious of Digby and spies on him. They think they've got the goods on him but just cannot figure out why they can't seem to expose him.
Neat Things: Gomez spends the show preparing for the Transylvania Decathlon. Morticia easily out-karate chops Gomez and Fester. Don't miss Fester's lie detector test when he says: "My name is Fester Addams and I think Heather Locklear is a real hottie". Gomez takes on Digby at soccer and loses 166 to 0. Watch everyone Conga to the cemetery. But the show stealing scenes have to be Fester playing Sam Spade from the Maltese Falcon as he tries to uncover the mystery - those scenes are even in black-and-white.
1.27 - Crisis in the Addams Family
Gomez's finds out life insurance policy was cancelled because his shark feeding trip to the Bermuda Triangle was deemed too much of a risk, but through a stroke of luck, Mr. Fielding - an inadequate insurance agent - comes to the door. Mr Fielding convinces Morticia that Gomez will die in six months if he doesn't change his dangerous ways, and Morticia convinces Gomez to change.
Neat Things: Gomez dressed as Zorro has a fencing match with his shadow and wins. Fester, Wednesday and Pugsley are playing Marco Polo in the cemetery - Fester is blindfolded and has the sword. Mr. Fielding makes another appearance in "The Addams Policy" (1.61)
1.28 - Christmas With the Addams Family
Christmas is coming. The joyousness of it horrifies the family, but the gift-giving and holiday spirit is still there. Pugsley sees his belief in Santa dashed, and the family enlists Fester to dress up as Santa for him.
Neat Things: Look for three smoke hearts coming out of the house chimney. Gomez and Morticia are both so "impetuous" - they just can't wait to open each other's presents. And you'll see that Fester is really a softie inside. Special guest appearance by Santa.
The last 5 days are Christmas are:
5 Bathtub rings
4 Psycho killers
3 Haggard maids
2 Smoking guns
and a vulture near a dead body
1.29 - Green-Eyed Gomez
Morticia's childhood friend Damien is coming over. When he arrives and he and Morticia start reminiscing, Gomez becomes insanely jealous. Since Lurch has gone on a surfing safari holiday, Gomez and Fester hire a housekeeper that could lure Morticia away from Damien.
Neat Things: Lurch says, "Kowabunga". Morticia says, "Nothing will ever come between us ... except that" as she refers to an axe that splits the scene for a scene change. Watch Gomez try to keep amused during Morticia and Damien's blah-blah-blahs, which includes playing cats cradle and bat-a-ball. See Gomez turn GREEN with jealosy. A great scene is when Gomez and Morticia meet to confront each other over their loves and the parting of their ways.
1.30 - Amnesia in Addams Family
Gomez gets hit in the head by a croquet ball and loses his memory. He becomes distinctly Brooklyn, and his whole personality changes. He tries clean up the house and his family. The family meanwhile, take desperate measures to do something about Gomez.
Neat Things: Gomez takes on a distinct Brooklyn accent and gets to wear a shirt and jeans. The family has a interesting meeting in the elevator. Morticia, Fester, Lurch, and Mama have an interesting moral battle on whether to hit Gomez or not. Finally, check out Fester's Brooklyn accent, and his own "lost memory" voice that sounds like King Lester (1.62).
1.31 - Gomez, the Cat Burglar
Gomez can't sleep. So Mama makes him an insomnia potion, and he starts sleepwalking at night. Morticia follows him out to see where he's going and Fester sees her. The newspaper says there is a cat burglar in town, and when a bunch of loot is found hidden in the house, Morticia and Mama think Gomez is the cat burglar, while Gomez and Fester think Morticia is the cat burglar. Meanwhile, Wednesday and Pugsley have a very quiet show as they see who can keep themself from talking for the longest.
Neat Things: The best scenes in this show are the ones with the cat burglar. Check out who the cat burglar really is: See our Behind the Scenes page.
1.32 - Uncle Fester's Illness
Fester was powering Gomez' trains and everything else in the house and he overloads himself. He becomes de-volted. The family does what they can to try to help get Fester's power back, including jump starting him, calling in Sparky's electrical, the electric chair, electric eels, and a lightning rod. When none of that works, they take Fester to the hospital. In a minor subplot, Wednesday is creating a life out of a doll for her science project.
Neat Things: This show features a whole series of short humorous clips, especially at the hospital. There's a bit of everything in this one. There's a bug's eye view of Fester, Mama, and Lurch. Then Lurch masterfully catches the fly with his long tongue. Look for Lurch's teddy bear. Wednesday plays Thoracic Surgeon and Thing is her helper, wiping her brow, handing her equipment, and fighting with her over her scalpel. The doctor, nurse, and patients are extremely well-played. This show is a gem.
1.33 - Morticia, the Decorator
Morticia has always wanted to be an Interior Decorator. At the urging of her family, she starts a business. She is given two weeks to decorate the wealthy Mrs. Drysdale's home. The family helps her out. Mrs. Drysdale is horrified, but John Farr, the reporter from "Superior Interiors" magazine loves it: "It is the most exquisite example of of post-apocalyptic deconstructionism I've ever seen. Why it totally epidomizes the end of civilization. The darkness; the bleakness; the sheer hopelessness". Morticia becomes a huge success. But what will her success lead to?
Neat Things: Fester hits Gomez, and stars appear, and if you look closely, Fester's face is in the stars. What did the family do to the house? Just: tar a wall; cover the floors with dirt; take out the 4th wall in all the rooms; break and board up windows; turn wine cellar into an indoor swimming pool; ensure outlets are unsafe; add barbed wire for tying up guests; burn the flowers in the garden; add a sandbag gate; put in a freshwater pirana pool, ... Next time you get your picture taken, don't say "cheese", but say "disease". Try it. It makes everyone smile.
1.34 - Wednesday's Crush
Sam Sedgewick, a 21 year-old runaway on a motorcycle happens to be in the wrong place at the wrong time when Fester is teaching Pugsley how to detonate manhole covers. Sam is taken into the Addams house to recover while Fester fixes his bike. Sam becomes a favorite of the family and Wednesday just about loses herself over him. Sam's stubborn father is called to the Addams house to celebrate Sam's birthday.
Neat Things: Wednesday has never had more emotion than in this show: "Mother! Father! We've got to do something! Sam may be hurt!". Wednesday opens her Pandora's box for Sam. Outside Sam's father's office window is a superbly done slapstick window washer. A very good scene is when Gomez and Morticia talk to Sam's father about reconciling with his son. Wednesday daydreams of herself and Sam in the future, while Sam sings to her:
When the light is dim, and the air is dank,
I think of the dead, the dead dead dead.
When the light is bright and the air is dry,
I think of the dead, the dead dead dead.
...
And then we shall join, the dead, the dead dead dead.
The dead, the dead dead dead.
1.35 - Morticia, the Sculptress
Morticia is depressed and feels a void. As an artist, her life has no meaning. Gomez suggests she try her hand at scuplting, so she does. But she is terrible. Morticia becomes even more depressed. So Gomez bribes a crooked art dealer to lie to Morticia in order to give her delusions of talent. That works too well. Morticia becomes obsessed with her sculpting and completely ignores the family.
Neat Things: Lots of cute stuff, including: Gomez trampoling; Morticia out-fencing Gomez while reading; Gomez, Lurch, Mama and Fester dressed up as models for Morticia; Gomez and Fester playing ping pong (with an exploding ball); "'Tish, don't move!" and she doesn't; Wednesday and Pugsley turn good; Gomez' dream; and a tongue-twister: "It stinks to be single. It stinks to be single. It stinks to be single." Officer Fife (1.09) makes a brief reappearance.
1.36 - Thing's Romance
Morticia's cousin Pretensia comes for a visit. Her ceaseless namedropping and mindless gossip causes the family to start avoiding her, and they try to get rid of her and succeed. But Thing meanwhile had fallen in love with Prentensia's handmaiden Lady Fingers. When Lady Fingers leaves, Thing is heartbroken. So the family must ask Lady Pretensia back.
Neat Things: Morgain Fairchild is the special guest star in this show and she is terrific. Thing gets a big part in this show and evokes many more emotions than you would expect from a hand. Some great scenes: Fester is shot around like a pinball in the cemetery; Lady Fingers and Thing in a slow motion romp towards each other; Gomez tries to escape from Pretensia in the elevator; the family's celebration when she leaves (complete with Oom-pa-pa band); "Nooooo!!" should Gomez and Fester when they have to invite Lady Pretensia back.
1.37 - Gomez, the People's Choice
The mayor plans to replace the broken streetlights and other such terrible things if he is re-elected. The mayor won't listen to their reasoning so there is only one solution: Gomez runs for mayor. The mayor accepts a public debate with Gomez and tries to dig up dirt about the family, but the mayor is not that clean himself.
Neat Things: The family goes all out in supporting Gomez. Fester makes up campaign hats, bumper stickers, buttons and fireworks. Mama makes a vote potion. Morticia (in bright blue!), Wednesday, and Pugsley turn "normal" for the debate. Fester officiates the boxing match/debate. Neat effect: Look for the screen breaking after a bomb explodes. Two mailmen bite the dust at the beginning of the show. Best line: When Mr. Brown is offered the vote potion, he replies, "No thanks, I don't vote."
1.38 - Close Encounters of the Addams Kind
A pair of aliens are running low on fuel. They detect a power source coming from the Addams house and change themselves into two earthlings: Greg and Marsha. They find out that Fester is the power source and do their best to get him to come with them.
Neat Things: Wouah Wouaahh Wouaahhaahahahah!!!! Watch this show and you too will be laughing for days just like the alien Greg. Gomez even gets to imitate Greg's laugh, and that is followed by a terrific swordfight competition between Gomez and Greg for Fester, and then by a competition at dancing that includes Disco, Bus Stop, Bump, Wednesday's fingers across the eyes dance, and finally the winning spin. Pretty interesting Aliens - but as Wednesday said, "Aliens wouldn't be stupid enough to land on this planet, unless they depleted their power source." This show could also have been called "Honey, I Shrunk the Fester".
1.39 - Lurch, the Teen-Age Idol
The family thinks Lurch's singing voice is wonderful, and they make a recording of Lurch and submit it to a record company. Mr Pickle, the promotor comes over and proclaims to Lurch: "Kid, you are going to be very big!". Lurch is made over and his song "Ugh, ugh, ugh. You Rang". But while on tour, Lurch finds out the realities of being a star.
Neat Things: Don't miss Wednesday's production of Lurch's music video. Another great scenes is Lurch's daydream, which ends with him waking up and finding himself dusting Fester's head. The Addamses hire Jeeves, a true English butler to fill in for Lurch. Jeeves initially seems to be a great replacement, and almost works out.
1.40 - Fester & Granny vs. Grandpapa Addams
Wednesday and Pugsley have been getting spoiled lately by too much attention from Fester and Mama. When Gomez and Morticia decide to take a vacation, they call Grandpapa over to help watch the kids. But Grandpapa is even better at spoiling them, and all is fun and games until Pugsley goes missing.
Neat Things: This episode is the second of two in which John Astin appears as Grandpapa Addams, again arriving as he exclaims: "I'm back!". The first episode was 1.21. Watch how Gomez converts his 7-10 split. Hurricane Zorba has a great part on the show. Gomez and Morticia are really blown away with their great vacation.
1.41 - Fester Joins the Global Mercenaries
Fester feels unneeded by the family, and hears an ad on TV that "The Global Mercenaries want you!" So he goes to their headquarters and seeks initiation. He passes with flying colors. Meanwhile, Wednesday is being stalked by a black cat which noone else sees.
Neat Things: Festers initiation includes: (1) the Dreaded Dalmanian drowning tank, (2) getting frozen in a block of ice, and (3) an ultra-high powered steam tank - "Wow. A weight loss program that's easy and fun." Good scene at the beginning of this show as a commando mailperson is serious about delivering the mail. Not to miss is when Morticia pretends to be despondent about her artwork and Fester helps her out. Best line in the show is Wednesday when Gomez and Morticia try to humor her about the cat: "Seek help."
1.42 - Addams Family in Court
"These are the plaintiffs: Lyle and Sylvia Fletcher. They claim their neighbor, Fester Addams, continually blows up their house with powerful explosives. This is the defendant, Fester Addams, and some other strange looking people. Mr. Addams says he's only defending his right as an American citizen. He also seems to have a bomb with him." The Addams' neighbors sue Fester, but Fester uses this to get to meet his latest crush: Judge Debbie. Meanwhile, Wednesday becomes very depressed when she loses her ability to torture Pugsley.
Neat Things: Lurch plays a sad song while Pugsley sings: "Feeling kind of bad, can't make my sister mad, and that's most fun I ever had." Hearts sprout out of Fester when he becomes infatuated with someone. His next love: Rosie O'Donnell.
1.43 - My Son, the Chimp
Pugsley wishes he had someone to play with, and amazingly a monkey comes in out of the window and instantly becomes his friend. But when Mama is trying out her Spell of the Month, she and Fester are led to believe that it accidentally turned Pugsley into the monkey. While they try to find a spell to turn him back, the family accept Pugsley the monkey who even gets in on the Family Photo taken by cousin Itt.
Neat Things: Check out the photo of the family taken when Morticia was pregnant with Pugsley. All sorts of interesting poses take place in the family photo shoot. Look for all the bananas in the show.
1.44 - Morticia, the Playwright
Wednesday and Pugsley were kicked out of the school play because they wouldn't do it the way it was written. When Gomez and Morticia read the script, they are apalled. Morticia decides she must write them a play herself. When school budget cuts cancel the play, Gomez gets them to perform Morticia's play. And when the parents refuse to let their children perform it, the Addamses do. Meanwhile, throughout the show, Fester and Gomez are enjoying "Gotcha Week" with each other.
Neat Things: Morticia wishes she could find something dramatic and extraordinary to inspire her, and a magnificent little scene of short snappers happens behind her. The escapades of Gomez vs. Fester as they try to out-Gotcha each other are a lot of fun. Gomez is awakened at the beginning of the show by the Tiger Head Clock. But that clock was supposed to be Pugsley's favorite (see 1.22), so why was it not in his room?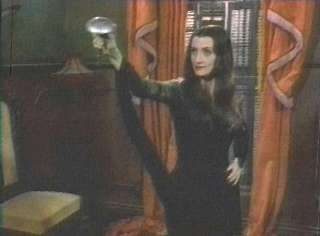 1.45 - Saving Private Addams
Wednesday and Pugsley get expelled from school again. Gomez and Morticia decide to send them to Warbridge Academy, a military school. But they turn out to be vicious and uncontrollable. The only way to keep them in school is for Gomez to buy it. The family then helps out as teachers at the school. Meanwhile, Lurch had accidentally stepped on Thing. With Thing in a cast healing, the guilt-riddent Lurch serves him well, until he finds out Thing isn't quite as hurt as he made out to be.
Neat Things: General MacPatton is superb! Morticia teaches French History. Mama teaches Battlefield Economics. Fester teaches the ABC's of TNT.
1.46 - Horseplay
An animal follows Pugsley home from school. It happens to be a thoroughbred racehorse. He wants to keep it, but the owners show up, and Gomez and Morticia give it back. The family chears up Pugsley by taking him to the racetrack to see the horse race. But Pugsley and Wednesday steal her again to keep her from being send to Greener Pastures. Meanwhile, Fester is going through a horrible period of good luck, and nothing he does seems to be able to change it.
Neat Things: The trap door has an extremely long fall. Don't miss Gomez and Morticia in 3 dances: Tango, Swing, and Waltz. Also: Gomez becomes the Jolly Green Giant, Lurch and Fester are a very unconvincing horse, and a giant radioactive lizard monster circles the house.
1.47 - Lurch's Grand Romance
Elsa, the Peterson's new housekeeper is at the door needing to use the phone. Lurch sees her and immediately falls in love. But he has no woman-savvy, so Fester offers to help and back up Lurch next time she comes to the door. That backfires and Fester reluctantly ends up at the date with Elsa and tries to use it to get Lurch together with Elsa. Meanwhile, Mama's witchcraft license has expired, and she has to take a test to get it back. But Mama's witchcraft skills seem to be a bit rusty.
Neat Things: The Whack At Addams game at the start of the show is especially fun and Fester gets to argue with himself but surprisingly Morticia seems uncoordinated. This show has great interaction between Lurch and Fester. Gomez becomes especially amourous as Morticia reads the French menu. The two witches, Elvira and Tabatha are a riot! Good special effects when Wednesday's Pandora's Box is opened. The parting effect, with hearts sprouting out of the center of the screen is very unique.
1.48 - Catastrophia's Career Cousin Catastophia lost her job (again), and comes to the Addams house. They try to help her by arranging for her to perform at the Fumento Brothers' Opera Company and Dinner Theater. Opera was something that Catastrophia always wanted to do. Her voices proves to be as destructive as the rest of her. Meanwhile, the family's gong is broken, and Fester tries to fix it.
Neat Things: Catastrophia arrives along with a 7 car pileup and a tornado. The scene with her arriving in the foyer is very well done and the condition of the foyer at the end of the scene is a site to be seen/scene. Gomez and Pugsley complete their 26,000 card haunted house, before Catastrophia opens the window. When family meetings are held, they are normally in the elevator, but this time it was broken (by guess who). Catastrophia sings, resulting in earthquakes, buffalo stampedes, a volcano eruption and buildings collapsing.
1.49 - Cousin Itt's Problem Cousin Itt comes for a visit with his dog named Them. When Itt finds hair in his room, he is horrified and thinks he is losing his hair. A hair doctor comes in and Fester works on a cure for baldness. Meanwhile, Pugsley is being bothered by the school bully, and Gomez gives Pugsley several lessons in self-defence.
Neat Things: Fester brings out the BIG explosives. Gomez shows off his skill (or lack thereof) at billiards, boxing, and samurai warrior fighting. The particularly cute conversation about Itt and Them is as follows:
"What is that exquisite creature?" - Producer
"It's Them." - Fester
"Who?" - Producer
"No. Them is Itt's, not Who." - Gomez
"What?" - Producer
"No. What's where Who is when Itt's here. It's Them." - Fester
"They're inseparable." - Morticia
"Ah, whatever it is, he's exquisite". - Producer
1.50 - Lurch, Man of Leisure
Lurch gets a postcard and becomes quite bothered by it. Lizzie, a girl he met on his Hawaiian vacation is coming for a visit. Lurch lied about who he was to impress her and said he was a millionaire. The family decides to help Lurch pretend that he is the man of the house, and Gomez becomes the butler and Morticia the maid. Fester, Mama, and the children meanwhile check into a (much too posh) hotel to get out of their way. But when Lizzie arrives, she is just after Lurch's money.
Neat Things: There are a few really good scenes in this show. Fester having a groaning session with Lurch to find out what's bothering him; Fester getting a back massage from Olga; Fester as the IRS man; and Wednesday and Pugsley coming in and jumping around Lurch with shouting "Daddy, daddy, daddy. Is this our new mommy? But we already have a mommy."
1.51 - Progress in the Addams Family
The family gets a letter from the city. The city has planned a four lane road to go right through the Addams Family house. They are told they must leave, and start packing - but then realize they must stay and defend their house. The city workers set up to blow up the house, but the Addamses staunchly defend it.
Neat Things: This show comes at you with all sorts of goodies, but there are two especially great sequences. First, the romp down memory lane where Gomez and Morticia come out with some great one liners such as "Oh Gomez, I love it when you take an irrational stand against overwhelming odds with no hope of success", and we see young Wednesday and Fester, and even hear the walls talk. Later in the show, Gomez addresses the family in Civil War outfits as they prepare to defend their home. More great lines and Gomez tops a few off with, "... and I haven't the slightest idea what I'm talking about!" Mr. Kushman, the city planner, even gets in the act with: "Why does this have to be the one time city workers start on schedule?"
1.52 - Undercover Man
The family is planning a surprise birthday party for Morticia. The FBI pick up Fester planning his explosives and think that there are terrist activities going on. So one of the agents goes undercover into the house and is led to believe that the family is trying to kill Morticia.
Neat Things: Look for the clip where the FBI agent Hollerin who is in the truck is watching the TV. The actress in the scene is an unmade-up Ellie Harvie (i.e. Morticia).
1.53 - Fester, the Marriage Counsellor
Fester is convinced by Gomez and Morticia that he should share his knowledge of relationships with the world, so Fester opens a counselling business. His first clients are treated to Fester's instructions on how to nurture a relationship. Other clients are also instructed. But when Fester fears that some of his clients are falling for him, he feels he must remedy the situation. Meanwhile, Pugsley falls in love with Mary, a girl who is just using him for her own purposes, until Wednesday gets involved.
Neat Things: Our cousin Shauna Nep plays in this show in the part of Mary. Gomez and Morticia spend the show reliving their youth. They are seen dressed as gamblers playing Go Fish, as beatniks at the swing in the backyard, in hippie outfits in the Ittmobile - "Cool, 'Tish baby", and in Elvis rock-and-roll dress at the movie theater. Look for the scene where Fester expertly cracks his neck - that must feel soooo good. The best special effect of the whole series has Pugsley coming out from behind a small tree that Wednesday just walked around. The worst line of the series: Morticia is on the swing and asks, "Gomez? Do you still have enough energy to go all the way?" Gomez replies, "Let's see.", and he swings her right over the top and back around. A 12-car train slows Fester down as it rolls through the house. Lurch videotapes Fester doing a ad for his couples counselling business:
Do you argue all the time?
Are you miserable in your marriage?
Well why wait for happiness?
I'm Fester Addams and I can help you!
Why take my word for it? Listen to this unsolicited testimonial:
Gomez and Morticia were having problems until I stepped in.
How's your relationship now?
"C'est magnifique." "'Tish! That's French!" (smootchies up the arm)
Call now 555-0121, or visit our website www.festerlove.com before its to late.
Sample of treatment (i.e. what to say to your beloved):
"Your eyes are like a cesspool of dirty water.
Your hands like cement - so rough and hard.
Your breath like a feted swamp."
1.54 - Lurch and His Piano
When Maestro Von Hertzelbert's Bogendorper piano, one of only five in the world, goes missing, his cunning assistant Sam Trudale convinces Fester to trade Lurch's Bogendorper for a Horowitz 5000. Lurch is crushed so the family goes to retrieve his piano. Meanwhile, Gomez spends much of the show trying to outdo his Uncle Mojo's records as an escape artist, and Wednesday is trying to help Pugsley pull his loose tooth.
Neat Things: Two great scenes are when Sam Trudale is convincing Fester to "Make a Deal", and when Lurch sits down at his piano to play but realizes it is gone. Cousin Mojo's escape tricks were: (1) The Full Body Tourniquette of Doom, (2) The Concrete Cocoon of Doom, and (3) The Buckled Blazer of Doom. Whenever Morticia names a trick, her "of Doom" echoes. When Gomez names one, nothing happens. It is odd that the family tries to find another instrument for Lurch, since he has shown in other shows that he is an expert at the organ, violin, flute and mandolin. Lurch's encore a nice touch being the theme song from the original Addams Family show.
1.55 - Cleopatra, Green of the Nile
Cleopatra, the family's carnivorous plant (who is part Komodo Dragon on her mother's side), is a little too greedy at feeding time and becomes ill. Cousin Fern, a plant doctor, comes to try to heal her, but does not succeed. Finally, they call a Vet. Meanwhile, Fester is stuck talking in rhyme, when all he wanted to do was win a poetry contest.
Neat Things: Cleopatra is an obvious take-off of the Little Shop of Horrors plant. The views from inside Patra's mouth are neat. Fester talks in rhyme due throughout the show and is hilarious!
1.56 - Granny, the Happy Medium
Wednesday has to do a school project and wants to interview her Great Aunt Esther. But when Mama tried to bring her back, instead she got her brother, Jester - the King of Practical Jokes. At first the family enjoyed Uncle Jester's playfulness, but soon he wore on them and they had a very tough time trying to get rid of their ghost Uncle.
Neat Things: "It's a Classic!" A very unique and interesting scene is when Jester takes over Morticia's body. Some not-so-good ghostbusters make an appearance. Too bad they couldn't get Bill Murray and gang for it.
1.57 - Lurch's Little Helper
Lurch is being overworked, so Gomez and Fester create a robot named Simon (for Synthetic Intelligence Menial Operative Nitroglycerin). Simon proves to be more efficient than expected, and Lurch tries hard to get rid of him. Meanwhile, Fester after getting hit by lightning starts picking up radio broadcasts. Thinking he is reading peoples' minds, he tells Gomez that Morticia is expecting a baby.
Neat Things: The Frankenstein take-off is one of the best scenes in the entire series. "Yes Dr. Gomez" ... "Fester, Fester, More Power!" ... "It's Alive!!!!" Gomez duels with Simon (a dead ringer for C3PO) who sports a Light Saber. Listen for the Star Wars music.
1.58 - Addams Family Feud
The hillbilly McAddams family - long lost distant relatives of the Addams - come for a visit. The two families had been feuding for generations, but no one remembers why. The families get along fine until a misunderstanding over a chunk of gold develops.
Neat Things: When Gomez and Pa have a duel to the death, Gomez has different outfits on for each weapon. The banjo hillbilly music in this show is a special treat. Listen for when the theme song is done in banjo. Gomez and Pa play duelling banjos, which ends up as a square dance with Fester calling.
1.59 - Fester, the Tycoon
Fester goes out to have fun by blowing up an indestructible pesticide plant. Donald Grump, the owner of the plant comes to pay Fester for demolishing a plant he wanted demolished and gives him a list of other buildings to destroy. Fester becomes famous and becomes the head of Demolition King Incorporated. With his own personal assistant as a go-between who even arranges a wife for him, Fester becomes too exclusive for even Gomez.
Neat Things: There's a great explosion at the start of the show that musses up Fester, Wednesday, and Pugsley. The board meeting headed by Fester is great. He fires Wednesday, Pugsley, Mama, and Lurch. The family kidnapping scenes are just great. Gomez even goes into a phone booth and super-fast changes by mistake into Superman.
1.60 - Lights, Camera, Addams
Steven DeVille, a movie producer, was scouting for a location for his next picture, "Mansion of the Undead" and became enthralled with the Addams house. The Addamses are big fans of Mr. Deville and get him to make the movie at the house. Then they all try to sneak a part in the movie, but Morticia has more trouble than the others in securing a part.
Neat Things: Gomez is the perfect stunt double and handles everything thrown at him (literally). Lurch forgets his lines: he was supposed to say "You Rang". When Mr DeVille is looking for a leading lady, he looks at Ellie Harvie's (Morticia) picture and says "Sexy!". Fester and Wednesday show off their 3-D home movie: "The Making of Mansion of the Undead", and Gomez gives it 3 thumbs up.
1.61 - The Addam's Policy
Fester accidentally disintegrates the family's upright stuffed Grizzly Bear. They call Mr. Fielding, their insurance agent (see also 1.27), to see if he can get them a new bear. When told that insurance cannot provide them a new one, they decide to go out on a camping trip and bring one back themselves. Fielding goes along to ensure that nothing happens to them. At home, Pugsley wrecks father's favorite engine on his train set.
Neat Things: Fester carries both ends of a very very long canoe through the house. Mama "inflates" the tent. It is much bigger than it looks. Morticia super-whittles a chair out of a piece of wood. Best line: "Here beary beary bear - I've got some yummy honey for you" by Fester.
1.62 - Fester, World Leader
Wilhelm von Trapp, Prime Minister of Caletonia, comes with an unusual and dangerous proposition for Fester. Since Fester looks exactly like King Lester, the King of Caletonia, he gets Fester to take the place of the King because there is a plot out to assassinate the King. Meanwhile, King Lester stays at the Addams house and learns a thing or two about life.
Neat Things: King Lester is also played by Michael Roberts (Fester), Queen Helen (check out her pot-belly) is played by Ellie Harvie (Morticia), and the dastardly Prince Regent Julius is played by Glenn Taranto (Gomez). Fester expertly makes a balloon vampire bat, a balloon bouquet of weeds and a balloon octopus out of black balloons. Best line: "Where is the little king's room" by Fester as King Lester.
1.63 - The Tale of Long John Addams
Fester finds an old treasure containing "The Tale of Long John Addams". Gomez reads the tale and the family members play the parts in his tale: Long John (Gomez) was a pirate, who was after the hand of Lady Penelope (Morticia). With the help of Curly Addams (Fester), Shorty (Lurch), and Pinky (Thing), he beats out the Governor (Cousin Vlad) for the hand of Lady Penelope (who is secretly the dread pirate Sylvia).
Neat Things: Mama has a part in the story as "Sea Hag", and Wednesday and Pugsley have unnamed parts. Long John has to make his not-so successful swinging entrances in each scene. Best line: "No one captures Long John ... twice ... in a single day". The appearance of cousin Vlad as the Governor was a nice touch.
1.64 - Keeping Up With the Joneses
The Addamses cousins, the Joneses are coming over. The families are very much alike in looks and personalities. Gomez and his cousin Ramon continually compete with each other, and this visit is no different. The competition culminates with a drag race. Gomez has to scramble to learn how to drive before the race starts and finds himself at even more of a disadvantage when he loses his sight just before the race.
Neat Things: Hooray! Pugsley finally gets even with Wednesday for all that she has done to him in the previous 63 shows. The inside front door of the Addams house seems to have changed, and now is solid wood with bars in the window. Best line: Fester says, "I'll look that up in the World Record Book ... that I just happen to have on my lap".
1.65 - Death Visits the Addams Family
The Grim Reaper (Death) knocks on the door of the Addams house and asks for Gomez Addams. Seems like an appropriate scenario for the last episode, but Death proves to be not quite as ominous to the Addams. After four unsuccessful attempts to take Gomez, Death finally agrees to accepting Gomez' challenge, and the Deathcathelon begins. What a way to celebrate Bastille Day!
Neat Things: Listen for the background game show music complete with applause. We're a bit disappointed that Morticia's French was not the thing that saved Gomez. Gomez's tombstone:
Six feet under
You will find
Gomez Addams
One of a Kind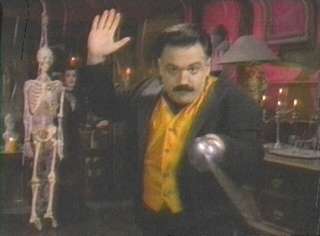 Addams Family stuff is available at:




Daddy's Page | Mommy's Page | Brenna's Page | Brittany's Page
Our Mummies Alive Home Page


You can reach us by e-mail at:

Disclaimer - The New Addams Family is the property of Shavick.
This content about the show is ours but the show belongs to them.

Copyright © Louis Kessler
All Rights Reserved